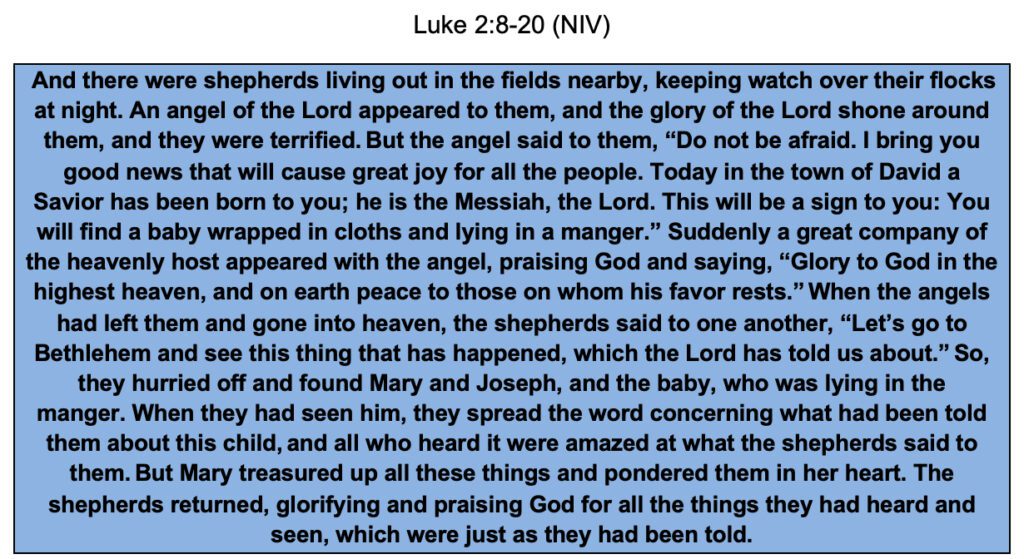 Three sons wanted to do something special for their mom for Christmas. She was getting older. They wanted to make it the most special Christmas ever.
The 1st son (the oldest) wanted to buy her a 25,000-square-foot mansion.
The 2nd son (the middle child) wanted to buy her a Rolls Royce with a driver included
The 3rd son (the baby of the family) wanted to buy her a parrot for companionship. He made sure the parrot was scholarly and could recite the Bible no matter what you asked him to recite.
The mom's response to each son went something like this:
1st son – "Thanks but that's so big I couldn't possibly clean it, but thanks anyway."
2nd son – "Thanks but I don't need a car like that. Plus, I met the driver and he's rude."
3rd son – "You get me, son. You know what blesses me. That was the most delicious chicken I've ever eaten!"
Just a little Christmas Humor!
Looking at our scripture of the birth of Jesus and the story of the shepherds we discover that the shepherds have such an important role in the Christmas story. During this time in history, we see that shepherds were not looked at favorably. They were considered unclean and unwelcome. They were kept at a distance. But God saw them in a more favorable light. Need we forget that Moses and Abraham were shepherds?
God knew that when we are in danger it's the shepherd who leads us out. When Jesus spoke, He said the people were like sheep without a shepherd. So naturally, God saw shepherds as a way to lead and chose them to announce the good news of the birth of our Savior.
When the angels appeared to the shepherds, they were so frightened. Wouldn't you be? I know I would. If you've ever been that scared, you realize you react in two different ways. It's either fight or flight. But then there are times when you're so scared, you're paralyzed. Even though the shepherds were frozen for a moment they began to calm down when the angel said, "Do not be afraid." When the shepherds heard this, they were no longer afraid. You hear the phrase do not be afraid a lot in the Bible. 365 times to be exact.
If you were one of the shepherds and an angel appeared and said, "Do not be afraid. I bring you good news that will cause great joy for all the people. Today in the town of David a Savior has been born to you; he is the Messiah, the Lord. This will be a sign to you: You will find a baby wrapped in cloths and lying in a manger." How would you react to those words? The Messiah? The One everyone had been waiting for? No wonder they freaked out for a bit. Now that they'd heard the good news and realized what was happening – they saw that God's love is for all – even smelly shepherds.
When you see something so beautiful do you feel overwhelmed? Do you freak out a bit? Einstein said— "There are two ways to live your life. One is as though nothing is a miracle. The other is as though everything is a miracle."
After the visit from the angel, the shepherds needed to see this miracle that the angel told them about. They realize they must go in haste as it was a sense of urgency for them.
Are you familiar with here and now the endless journey starts? Do you know a guy by the name of W.H. Auden? Wystan Hugh Auden born February 21, 1907, and died September 29, 1973, was a British-American poet. He wrote about love and religion and politics. He's well known for the incredibly long poem For the Time Being: A Christmas Oratorio. Auden uses the characters in the Christmas Story. They speak in modern diction and go about in a series of dramatic monologues. Auden's Christmas Oratorio, For the Time Being, begins with "Well, so that is that. Now we must dismantle the tree." He writes of putting away the decorations, taking them to the attic, taking down the mistletoe, and getting the kids ready to go back to school. He also writes about all the leftovers lasting the week. It's the end of Christmas and we must get back to our normal routines.
Auden also wrote about the shepherds. In his writings, he mentions the three shepherds and quotes them as saying: "O here and now our endless journey starts." Meaning we mustn't lose our sense of urgency. Like the shepherds, we must live life with passion. They hurried off to see the baby Jesus. Then rushed to tell the world. It is love being called to a greater purpose. God wants us to know that He loves us and doesn't want to lose us. A source of passion for us is that God is love. You must take your own journey to discover this fact.
Afterward, it seems rational that the shepherds would go back to work and back to their life. But this glorious experience of seeing the baby Jesus could never be taken from them. In the story of the shepherds, it's not the end. It's the beginning. However, Luke never tells us what really happened to the shepherds. We don't know what happened to them after they visited with the newborn, our Christ, in Bethlehem. Did they actually return to their tasks as we might think? Maybe. But we must know that surely nothing was ever the same. Just like Auden wrote of the shepherds, "O here and now our endless journey starts."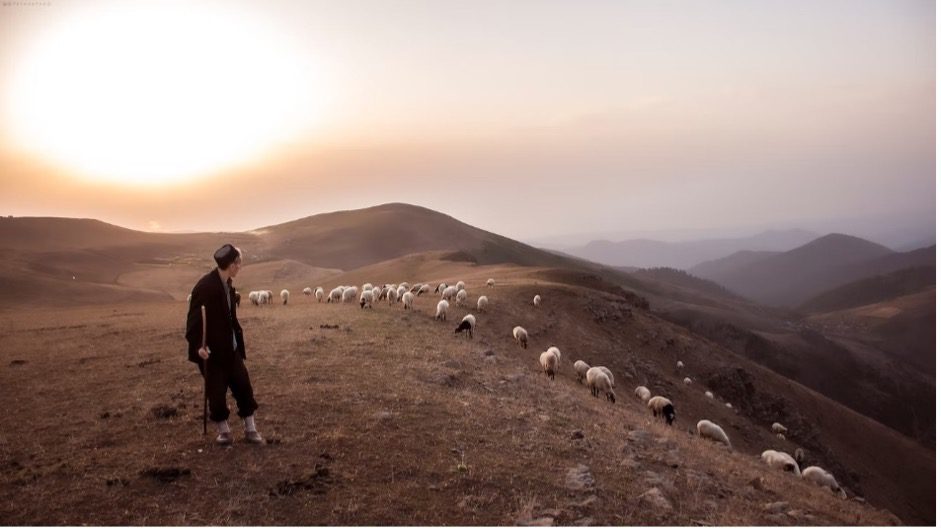 It is not the end. It is the beginning of an endless journey—following Him, living out our love in this world, our Lord Jesus Christ, to whom be all honor and glory, forever and ever. God chose the shepherds for a reason. But then, God always has His reasons, does He not? Lowly men (thought by some) who would go forth glorifying and praising God—leading the way.
Luke tells us, "The shepherds returned, glorifying and praising God for all the things they had heard and seen, which were just as they had been told." That's a passion for Jesus.
Won't you get caught up in the passion?
And that's what I learned in Church……see ya next time!