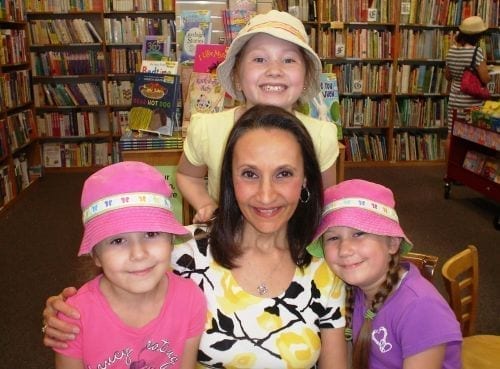 As an author, I'm all about leaving my readers with knowledge. I strive to take them on a magical journey, tickle their funny-bone, make them think and in the process learn some pretty cool lessons along the way. My goal is to cultivate children's imagination through reading. When a story is read, characters come to life! Reading opens up the world to all those who care to pick up a book and travel to places unknown and experience the excitement of an adventure.
My writing began when my children were little. I wrote my first book, Elizabeth Marie Hutchinson-When I Dream well over thirty years ago as a gift to my girls, never thinking of having it published at the time. Now, years later, I'm happy to say I have been submerged in the life of an author and it's been quite a journey.
After my first book became published, I went on to write Dealing with Margaret: Elizabeth Marie Hutchinson-When I Dream and then I'm a Detective! Elizabeth Marie Hutchinson-When I Dream, my double award-winning book. My main character, Elizabeth, has been with me all along the way.
Tracks in the Snow is my first attempt at a picture book. Imagine my delight when it took home an award as well. Then there's Words and Actions, an award-winning e-book written to show children the importance of their words and actions and how they shape and affect their lives.
It's hard to believe that what started out as a dream has turned into something this spectacular! It has truly been an exciting experience filled with ups and downs and twists and turns—but above all hard work and perseverance. The rewards have been a true blessing.
My Award-Winning Children's Books Include:
I'm a Detective! Elizabeth Marie Hutchinson—When I Dream won the Reader's Choice and the Henri Awards at the 2013 Christian Literary Awards. It received both awards in the Youth and Young Adult Inspirational and Christian Literature category.
Tracks in the Snow won the Reader's Choice Award at the 2014 Christian Literary Awards in the category of Children's Books.
Words and Actions won the Reader's Choice Award at the 2015 Christian Literary Awards in the category of Children's Books.
The Christian Literary Awards' mission is:
To promote the reading, writing and circulation of Christian and inspirational literature.
To provide an environment where readers and authors have an opportunity to discuss selected reading materials.
To provide a platform for authors that encourages chaste conversation about their writing which aides in the understanding and application of Christian principles and living.
To honor and promote those involved in the Christian Literary Community and to encourage the birth of new Christian Authors.
Listen to my interview with Joy Lewis, Rosemary Legrand, and Rose Lewis of The Review with Joy and Company Radio Show where we talk about my double award-nominated children's book Arnold J. Peppercorn! Why Must You Have Such a Loud Personality?
Listen to My On-Line Interview with Dr. Stephie Althouse, recognized by MIT Technology Review as one of 100 "most promising young innovators under the age of 35" (1999) winner of several Technology of the Year Award(s) Coach, Author, and Speaker Executive Technologist and Business Leader, Founder of Mom's Never Sleep.
Watch my presentation entitled The Magic and Mechanics of Telling Your Story as Entrepreneurs. It was my pleasure to present to the National Association of Christian Women Entrepreneurs on the topic of storytelling. April 10, 2018.
Listen to my interview with Joy Lewis, Rosemary Legrand, and Rose Lewis of The Review with Joy and Company Radio Show where we talk about my double award-nominated adult book Anyone Seen My Rose-colored Glasses? (God's Word in Everyday Life)
1 Corinthians 13:4-8a; 13 (NIV) How exactly do you solve for X? By doing long division? Mathematically speaking in order to solve for X when the equation includes an exponent, you must start by isolating the term with the exponent. Then, isolate the variable with the exponent by dividing both sides by the coefficient of…
Read More