Summary
Words and Actions is an award-winning e-book that teaches children positive virtues. I use my character Elizabeth Marie Hutchinson from my When I Dream series of books to help easily explain the importance of having positive characteristics.  Elizabeth shares words, their meaning and how the words can actually shine through in a person's actions.
This guide helps teach kids the importance of their words and actions and how they shape and affect their lives. Some of the positive virtues this book focuses on include:
Ambition
Assertiveness

Compassion

Confidence

Courtesy

Determination


Devotion

Enthusiasm

Excellence


Fairness

Faithfulness

Forgiveness

Friendliness

Generosity

Gratitude

Honesty

Kindness

Optimism

Respect

Responsibility


Self-discipline
Parents will love this book because not only will it expand children's vocabulary and teach them positive traits, but they will also have fun in the process.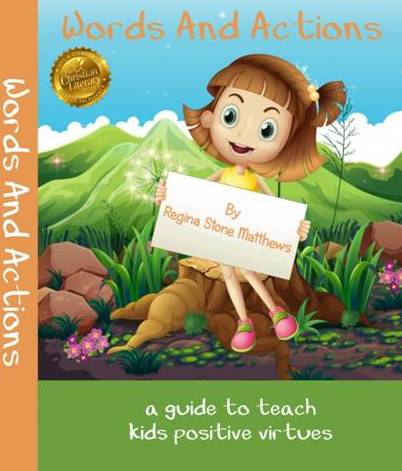 Watch Words and Actions Video
What Words Do You Put Into Action?
Elizabeth Marie Hutchinson and I invite you to discover how your actions define words and words define your actions! We thought it might be fun to share some very important words with all of our readers and describe how those words can actually shine through in a person's actions.
As an author, words are my life. I love discovering new words, finding their definitions, and even their origins. Yes, I'm a word nerd! Words and actions are important. Our words are important. They matter. Likewise our actions are important. They definitely matter.
So how about words and actions? There are words that refer to a person's character. How a person is described. For instance, if you use the word "joyful" to describe someone, how do you know they are joyful? Probably because it shows in their actions.
Parents, I've chosen words that are character specific. Your children will love this e-book. Of course, I've had a little help from Elizabeth!