Summary
The lady of the house awakes one cold snowy morning to discover that while she slept, a mysterious little creature left his tracks in the snow on her front stoop. She can't imagine what he was looking for. She never heard the slightest thing. Had he been in her yard before? Then she remembers a time when a pesky little critter passed through her yard exploring. She laughs as she recalls chasing him around and around her back yard. Could it be? Look inside to see. The artwork in this book was illustrated by student artists ages 6-12.
Also available at Barnes & Noble.
It all began with a blanket of snow, some tracks, a critter and a competition.
This being my first attempt at a picture book, I had mixed emotions consisting of excitement and fear! Since my other three books are chapter books, going from hundreds of words with descriptive verbiage to just a very few words—well, let's just say it's a lot harder than it sounds.
I knew I wanted to try my hand at writing a picture book, but literally didn't have a clue as to how to go about it. So I did some research. Funny how things happen. After a full day of researching picture books, my brain couldn't handle another thought and I decided to call it a night. When I awoke the next morning, imagine my shock when I looked out my window and saw my entire yard covered in a beautiful white blanket of snow! I walked downstairs, opened my front door and there they were…Tracks in the Snow! I couldn't believe my eyes! The cutest little tracks perfectly placed, one right after the other, in the snow that had gathered on my front stoop.
I called for my husband to come look. He thought they were so cute that he just had to take a picture.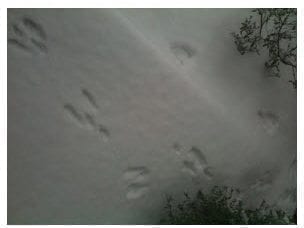 This picture inspired me to write a poem about those tracks. And as they say, "The rest is history!"
It occurred to me that my little poem would make a perfect picture book for nursery to kindergarten age children. But what about the illustrations? We all know that picture books are not only about the words, they are about the pictures as well. They kind of go hand in hand, right? I have two amazing illustrators, but for some reason I was hesitant to present the picture book idea based on the poem to them. After going back and forth with myself as to how to go about having the book illustrated and by whom, an idea came swooping down out the heavens and smacked me right in the head!
Why not have children illustrate my book?  From there, I came up with the idea to hold an Illustration Competition for student artists ages 6-12 and have my two illustrators as the competition judges. And thus the competition was born!
It has been such a joy to work with these amazing kids. My ultimate goal with this project was offering not only an opportunity but a challenge to young student artists who might not ever have a chance to showcase their work or their talent. It has developed into what I call "Kids Inspiring Kids."
Tracks in the Snow is a sweet picture book parents will enjoy reading to their children over and over again.  It's great for children ages 0-5.